So I headed down to the RDS yesterday afternoon to pickup my Race chip and number etc. for the Dublin Marathon on Monday.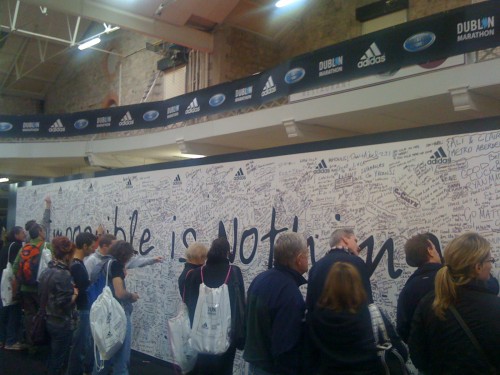 Have to say – it's a really well put together expo. I wasn't expecting it to be so well organised and informative – you don't normally get that kind of thing in this county.
Anyway, it's now less than 24 hours to the big day and the pre race nerves have well and truly kicked in!
Today is all about sitting back, relaxing and waiting….
It's the damn waiting I think everyone hates in these situations.
You've done all the prep and training. You've checked to make sure you've got everything ready for race. Now you just want to get on with it – but you can't – you must wait until time catches up with your state of mind – this is the hardest part.
Come 9am tomorrow morning the waiting will be over, the gun will sound and 12,500 nutters will put one foot in front of the other for 26.2 miles.
Good luck to everyone taking part.
The waiting is nearly over.