Well it would now seem that the only time I even half regularly update this blog is around the time of the Dublin Marathon.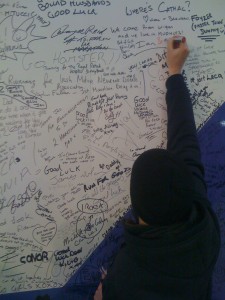 So it's a second time around the merry-go-round that is the Dublin Marathon for me. Training this year has not been as consistent as last year. Add in a knock here and there and a niggling chesty cough and the confidence is not what it should be for marathon number 2
.
Nonetheless, I'm now counting down the hours to the start line for Dublin City Marathon 2010 which kicks off tomorrow morning at 9am sharp.
Today is all about rest, carb loading, rest, carb loading and then more rest. Oh and plenty of fluids. It's counter intuitive to be stuffing your face and drinking lots of fluids the day before you run 26.2 miles but it seems to do the trick!
A quick trip around the Marathon Expo yesterday to pick up the last few essentials (like your race number) was well worth it. There is an excellent marathon museum recounting all previous Dublin Marathons which really brings home just how big this event has become.
Gotta say those medals from the mid 80's trounce the current batch. Time to continue the 80's retro theme and bring back those plaques!